LA SALLE TECHNICAL COLLEGE STUDENTS' VISIT METROLOGY LABORATORIES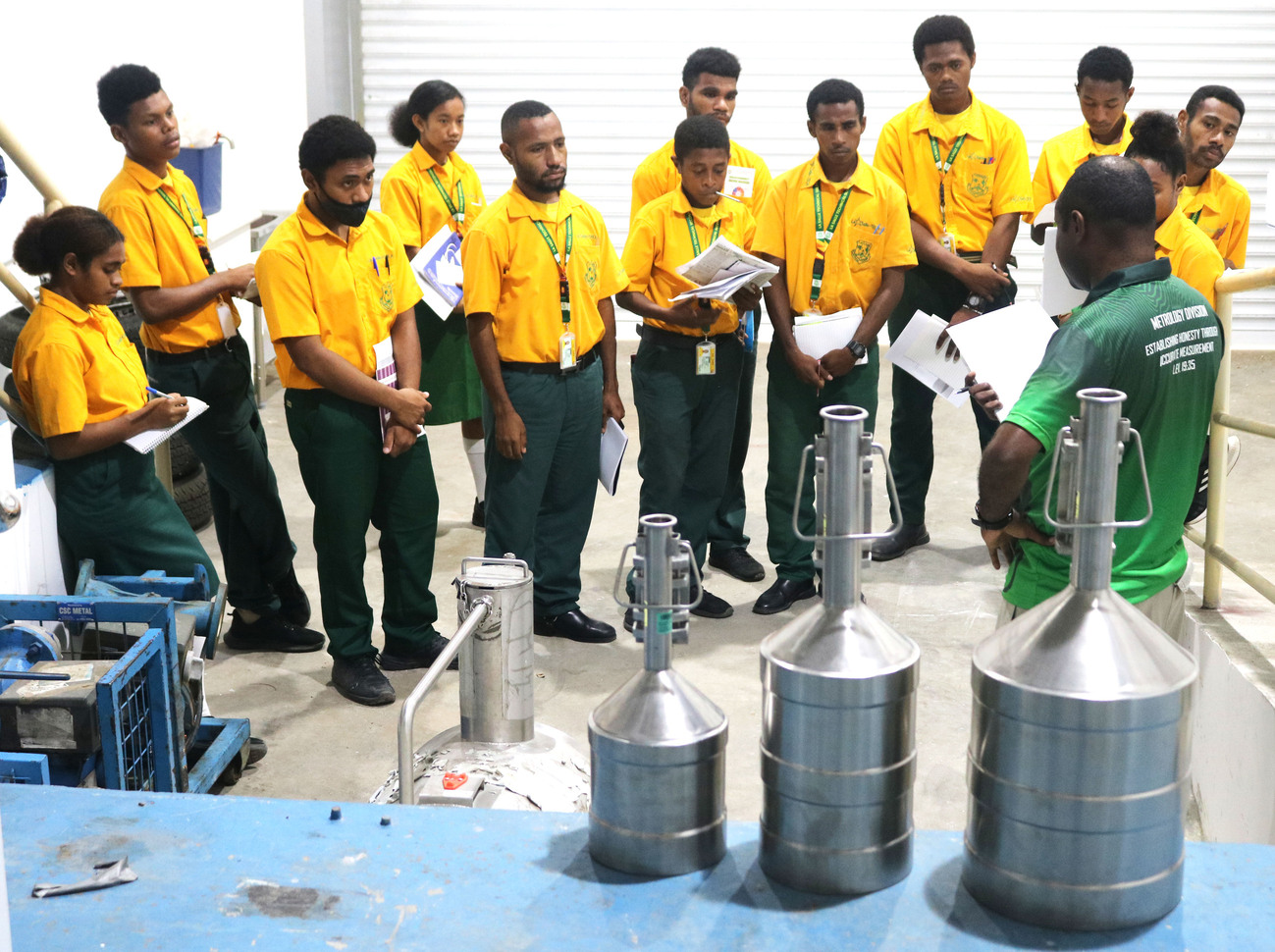 Metrology staff explaining to students about the measuring equipment in the laboratories at NISIT.
LA SALLE TECHNICAL COLLEGE STUDENTS' VISIT METROLOGY LABORATORIES
FORTY-EIGHT Grade 11 pioneer students from La Salle Technical College in Port    Moresby have visited the Papua New Guinea National Institute of Standard and  Industrial Technology (NISIT) Metrology Division, on the 16th of March, to learn about  Measurement. 
Since the students were learning about Measuring Instruments and Minimizing Errors in their Physics class at school, their teacher Br. Francis ToLiman arranged for a trip to visit NISIT's Metrology Division.  
The Division happily hosted the event that day with Executive Manager Mr. Joe Panga welcoming the students and giving an overview of roles and responsibilities of NISIT and Metrology. 
The students visited the 8 Measurement Standards Laboratories: the Flow and Capacity Lab, Legal Metrology Lab, Force Lab, Temperature Lab, Mass and Balance Lab, Pressure Lab, Length Lab, and Time and Frequency Lab/ Electrical Lab. 
During the tour, a metrologist (Metrology staff) was stationed in each laboratory and took the students through: 
a)

TYPES of Reference Physical Measurement Standards in each Lab,

b)

ILLUSTRATION of Calibration activities for the clients measuring devices, eg; Verner Calipers (client) calibrated against Gauge blocks (MSL Reference) …

c)

IMPORTANCE of have Measuring devices calibrated to show its accuracy and precision (Performance of devices), and,

d)

HOW to minimise errors during measurement readings using appropriate Standards and techniques. 
The students interactively asked a lot of questions and took part in demonstrations as they visited the labs. 
The Manager Scientific and Industrial Metrology Mrs. Edna Kuve said this was the first group of students to NISIT this year and both the students and staff at Metrology Division enjoyed the visit. 
"Metrology is the custodian of the national physical standard, and it was a good the students came and learn about measurements and actually see the instruments/tools used to measure things," Mrs Kuve said.  
"The visit also sparked career interest (in Metrology) from the students and that was exciting to see," Mrs Kuve said.